Atlanta is already known as one of the top 10 dog-friendly cities in the United States, and now the capital of Georgia is on its way to being considered one of the most feline-friendly cities as well thanks to the recent grand opening of the state's second cat cafe.
Created by artist Donna Howells, Myra Shana embellished the beauty of the cat portrait murals that decorate the wall of the cats' quarters:
A dream which had been percolating since late 2015, Java Cats Cafe opened its door on March 27th, with visitors savoring the perfect blend of coffee and kitties to help two worthy causes. Along with lapping up a latte, an espurresso, a meowicano or meowchiatto, customers can drink in the beauty of mewrals painted by area artists, and nourish their spirit while satisfying their stomach by ordering food prepared by The Gathering, part of The Gathering Industries, a non-profit which provides culinary training for people who are homeless.
Proprietor Hayden Hilton:
For those looking to satisfy their craving to cuddly kitties, a small fee gives access to the cafe's special cat quarters, where patrons can find a friend (or maybe even a furry family member!) in adorable adoptables from the no-kill non-profit PAWS Atlanta.
Open seven days a week, Java Cats Cafe is located at 415 Memorial Drive SE, Suite C in Atlanta.
Shy, tuxedo-suited Ashley found her forever pet parent after only three days at Java Cats Cafe!
See more cat cafes around the world in our Cat Cafe Directory: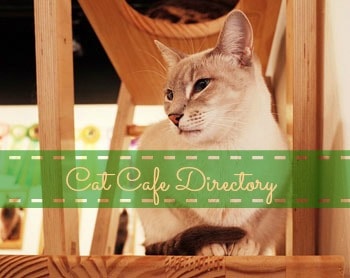 Photo Credit: Myra Shana and Java Cats Cafe/ Instagram