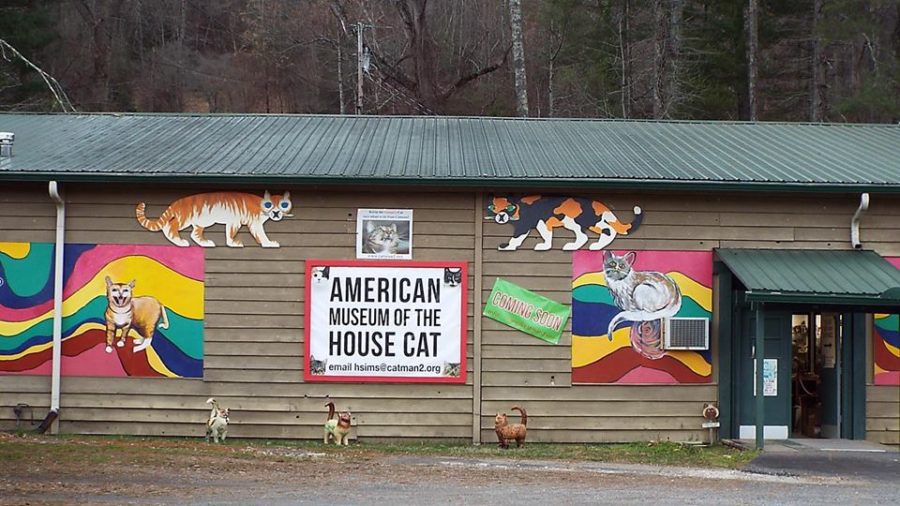 Since 1996, Catman2 cat shelter and sanctuary has been offering a new lease on life to our feline friends who need families to love. Now the founder of the no-kill facility is also providing a new life to an assortment of cat memorabilia, all to help a paws cause.
April Fools Day 2017 was a date for all who are crazy about cats to celebrate as The American Museum of the House Cat opened its door to those who adore our pals who purr. A forever home for a quirky collection accumulated over the course of three decades by Catman2 founder and President Dr. Harold Sims, the museum features a clowder of every cat-inspired item imaginable.
Offering visitors a view of yesteryear, an array of cat-inspired advertising, antique children's playthings (including tin wind up toys and a gathering of Steiff cats,) cat carousels, arcade games and even an ancient Egyptian cat amulet and the remains of a medieval mouser all share space with feline folk art and modern day cat collectibles.
A permanent presentation for a higher purrpose, the roadside museum's admission price ($5 for adults, $2 for children accompanied by a guardian) aids the efforts of the Catman2 Cat Shelter, a licensed no-kill facility in Culowhee, North Carolina which cares for more than 80 cats.
Located on Sims' 10-acre estate, the shelter offers spacious areas for adoptables, with mellow music piped in from ceiling speakers providing the soundtrack as kitties play with their toys or soak up the sunbeams that pour in through windows that frame a bucolic view. Cats can also enjoy the sights and sounds of the great outdoors as they lounge around in one of the screened porches and dream of the day when they find a pet parent.
The only museum in the United States doggedly devoted just to the domestic cat, The American Museum of the House Cat is located at the Old School Antique Mall at 4704 Hwy 441 South in Sylva, North Carolina. Closed Mondays.
Take a virtual tour of The American Museum of The House Cat by watching this video from The Carpetbagger:
Photo Credit: The American Museum of the House Cat/ Facebook