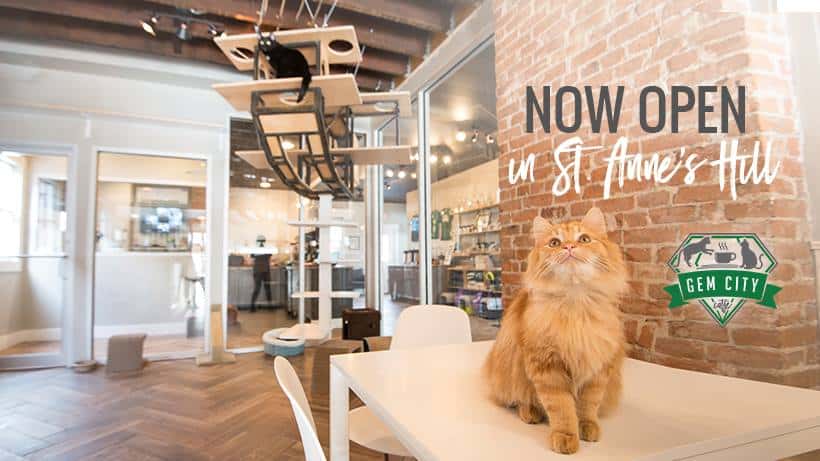 The start of the new year has also marked the start of a new day for cats in need thanks to Gem City Catfe in Dayton, Ohio opening its doors to those who love food, felines and philanthropy!
On the Menu
Before enjoying the heart-warming sight of a plethora of purring pals playing in their own special kitty quarters, customers can order a warm beverage off of the menu, such as a Cappucino, a Macchiato, hot chocolate or a London Fog (Earl Grey tea combined with steamed milk)… or perhaps a cold drink like an Iced Americano, an Iced Chai, Honey Cinnamon or Maple Turmeric Latte is in order before meeting the clowder of cool cats. Patrons can also curb their cravings prior to feasting their eyes on adorable adoptables by ordering a Vegan Red Velvet Cupcake, Lemon Bar, Kitty Meringue, Bagel, Croissant or other tasty, locally-made treats.
The Cats of Gem City Catfe
Lapping up the attention of feline-loving customers from the comfort of their cat lounge are adoptables from Gem City Kitties, a non-profit founded to aid partnerships with several Dayton area rescues and shelters, such as The Humane Society of Dayton. Helping new arrivals adjust to their surroundings are Mr. Baby, Wilpur Wright and Meowrville Wright, a trio of cats who have made the catfe their purrmanent address.


Special Activities
Cat lovers can sign up to focus on their inner Alfred Steiglitz during a photography lesson, draw out the PiCATsso within during sessions with area artists in varying mediums, or perfect their Downward Dog during Yoga with Cats, all with the help of some feline friends!
Ohio Cat Cafes
Gem City Catfe is the latest Ohio eatery that blends coffee and tea with adoptable kitties. Eat, Purr, Love cat cafe in Columbus opened its doors in the summer of 2016, and in April 2017 the city of Mason welcomed Kitty Brew Cat Cafe.
Location
Open seven days a week, Gem City Catfe is located at 1513 East 5th Street in the St. Anne's Hill Historic District of Dayton, Ohio.
The following video from Dayton.com offers viewers a virtual visit to Gem City Catfe:
Photo Credit Gem City Catfe Instagram; Facebook