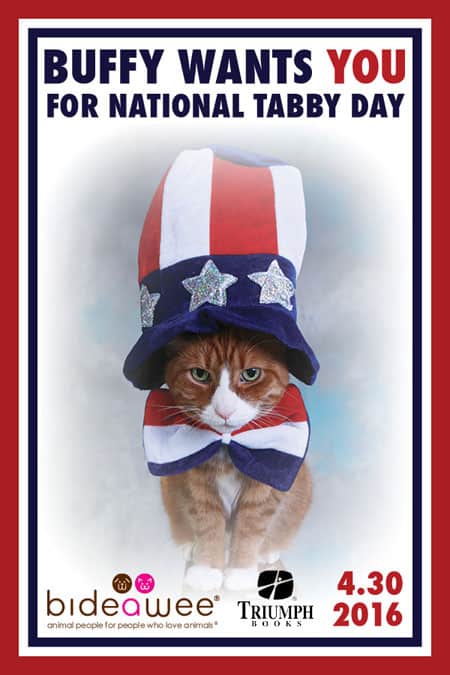 The tabby may not be a cat breed but, in the eyes of their feline-loving fans, the domesticated darlings are in a league all their own. To celebrate these stars with stripes, April 30, 2016 has been deemed the first annual National Tabby Day!
In a tribute to tabbies, Bideawee Animal Rescue in Manhattan will hold National Tabby Day festivities on April 30th, with adoptions from 10 a.m. – 6 p.m. and the official launch of author Sandy Robins (and Buffy the Cat's) new book, Making the Most of All Nine Lives: The Extraordinary Life of Buffy the Cat. Attendees can enjoy drinks and tasty treats. Those who opt to adopt on the day will receive a starter kit filled with items from the event's sponsors as well as a photo op with the book's photographer, Paul Smulson.
Tabby Coat Patterns

Kitties whose coat pattern pays homage to cats who walk on the wild side, a tabby's stylish stripes can be classified as:
Classic– characterized by bold swirls on a cat's side.
Mackerel– the most common cat coat pattern, which features tiger-like parallel stripes along a cat's flanks.
Patched– Red and brown areas appear on the cat's coat.
Spotted– a pattern distinguished by dark dots on a cat's sides.
Ticked–stripes may be faint or nonexistent, with the exception of the cat's face.
Famous Tabbies
Garfield: The orange tabby cat's capers have tickled the funny bones of feline-loving comic strip readers for decades. In 2015, the animated kitty touched the hearts of fans when he and his canine companion Odie helped to promote the option of pet adoption in a PSA for The Shelter Pet Project.
Lil BUB: An intergalactic tabby who uses her magical space powers for good, the Internet sensation has helped to raise more than $300,000 for cats and dogs in need.
Orangey: The orange tabby who won a PATSY (Picture Animal Top Star of the Year) Award for his role in the movie Rhubarb continues to win the hearts of film fans thanks to his portrayal of Cat alongside Audrey Hepburn in the romantic dramedy Breakfast at Tiffany's.
Tabbies have also played starring roles in the lives of many animal loving luminaries, among them:
Marc Bouwer: A fashion giant who has created couture creations for such stars as Angelina Jolie and Charlize Theron designed a brighter future for a homeless tabby kitten in 2014 when he adopted his fur baby Isabella.
Winston Churchill: Even though almost a half century has passed since the former British Prime Minister passed away, the memory of the late world leader's love of cats lives on at the Churchill family residence, Chartwell. In tribute to a marmalade-colored tabby cat named Jock, who brought happiness to Chuchill's life in his final years, there is always an orange and white tabby named Jock presiding at the residence. Jock VI was a 7-month-old rescue kitten from Croydon Animal Samaritans when he was awarded the coveted position in 2014.
Gigi Hadid: The supermodel became a role model when she welcomed into her life a tiny tabby kitten named Cleo, who had been found in a car engine.
Tricia Helfer: Feline-loving fans of the sci-fi series Battlestar Galactica think that Tricia Helfer us out of this world for helping various paws causes. In 2014 the star, who has shown her support over the years for Kitty Bungalow, Last Chance for Animals and Best Friends Animal Society, adopted a tabby kitty she named Prissie.
Miranda Lambert: The country crooner who climbed to the top of the charts with "The House That Built Me" helps dogs and cats who need forever homes as the co-founder of MuttNation Foundation. In 2015 she also opened up her own home to a tabby who was found on a highway in Arkansas.
Jason Mraz: The Grammy Award winner won the hearts of cat devotees when he adopted Prancer, a tabby kitten from The San Diego Humane Society, in 2014.
Ed Sheeran: In 2014 the "Lego House" singer gave a forever home to a tabby he dubbed Graham.
Steve-O: Known for tickling his fans funny bones with his comedic stunts, fans of felines were tickled pink when they heard the news that the former MTV star adopted a tiny tabby named Olive from the Spay Neuter Project of Los Angeles clinic.