As our regular readers know, our cats are indoors ALL of the time, regardless of the phase of the moon. They have a screened catio so they can get out and enjoy some fresh air but they never go outside the screened room. One big reason: the predatory coyotes that come very close to our home every evening (and during the day as well):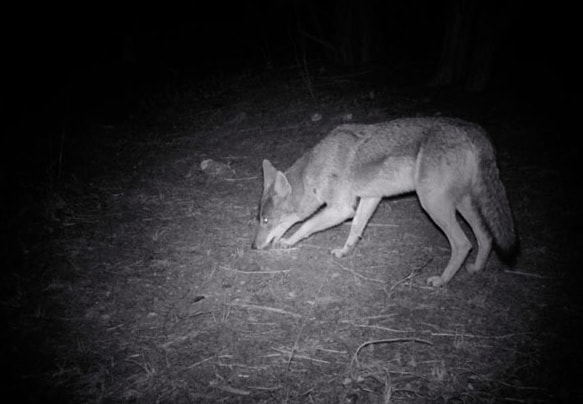 We notice that the coyotes are much more active during a full moon when they howl up and down our valley through the night–and no doubt use the extra light to assist with their hunting.
Recently we received an email from Healthy Paws Pet Insurance about the possibility of full moon nights being more dangerous to pets. In 2007, researchers published a study titled, "Canine and feline emergency room visits and the lunar cycle: 11,940 cases (1992-2002)" to find out if the moon really affects our furry friends' behavior and their inclination to be accident-prone.
The results? They discovered that there was a significant increase in emergencies for cats and dogs on fuller moon days (waxing gibbous to waning gibbous), compared with all other days.
Recently, the pet insurance company tracked pet insurance claims on full moon nights. While in 2016, they discovered a 5.5% increase in those claims placed on full moon days when compared to the average claims placed on non-full moon days, in 2017 there wasn't a huge difference in claims filed on full moon days versus average days of the month, but there still was an uptick of about 100 to 300 claims on those full moon days.
On January 31, we'll be experiencing the SECOND Supermoon of 2018…it sounds like a good time for ALL the members of your family to stay inside and enjoy a movie!