When we "asked" our cats to try out PetFusion's Deluxe Cat Scratcher Lounge we knew we would get an honest reaction from them. Cats know what they like and are not overly concerned with being diplomatic or soothing egos. In other words, they are truly unbiased critics.
So, when we received the Deluxe Cat Scratcher Lounge the other day, we just took it out of the box, set it on the floor and stepped back to see their reaction. It didn't take long for our felines to discover the new scratcher and soon there was a kitty queue forming to try it out.
Coco has just about taken up residence on the scratcher, giving Inca time on it to sharpen her claws but otherwise making the boys–Felix and Linus–wait their turn for a while: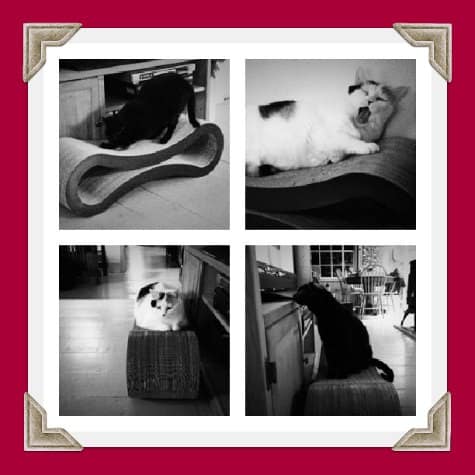 Bottom line: our cats love this scratcher and it has been continuously occupied by one or another of our cats ever since we set it down.
The Deluxe Cat Scratcher Lounge is definitely a cut above some other scratchers our cats have tried. For one thing, it is big (35 x 10.5 x 10.5 inches), providing plenty of room for even a large cat like our Coco to scratch or to nap. Another difference is that it is heavy (7.2 pounds), substantial enough to remain firmly in place even during intense scratching sessions. The Lounge's stylish figure eight shape entices cats to recline on it and is an attractive addition to a room. The high-density corrugated cardboard surface invites scratching and the unit can be reversed to extend the life of the scratcher. The Lounge is available in two colors, Walnut Brown and Charcoal Gray.
The voting by our four cats was unanimous: all 16 paws up (with claws extended)!
Pet Fusion Scratchers on Amazon:
For More Information or to order:
Disclosure: We received a Deluxe Cat Scratcher Lounge for review; all opinions are entirely our own…and those of Linus, Felix, Coco, and Inca!

Top image courtesy of PetFusion, LLC.