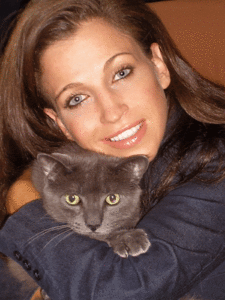 How old is old when it comes to your cats? Just like people, cats age at different rates. Cats are considered seniors at the age of 11 but, with proper care, they can have many years of fun ahead of them!
For the next six days, we've got a special series of senior cat tips from Today pet lifestyle contributor and Animal Fair editor-in-chief Wendy Diamond. Wendy has partnered with Hill's Science Diet to find out how old cats really feel with the launch of the new Science Diet CatAge Quiz.
As we start this week of special tips from Wendy Diamond, begin by answering a handful of few simple questions you can determine your cat's real age and pick up some tips to help your feline friend retain their youthful vigor.
You can take the quiz by visiting HillsPet.com/DefyAge.  And once you have assessed your cat's true age, you can start focusing on how to work against the clock and keep your cat feeling young and healthy as they turn 11+!
Tomorrow: A healthy body is nothing without a healthy mind to match!
The Senior Cat Series: