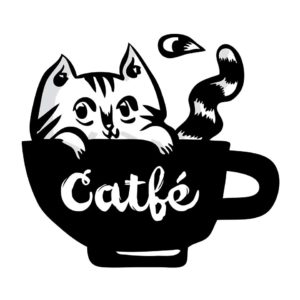 Christmas is coming early for our Canadian pals of those who purr as Vancouver celebrates the grand opening of the city's first ever cat cafe!
On December 14th both foodies and fans of felines will gather in a virtual clowder at Catfé. Located on the second floor of the International Village shopping mall in downtown Vancouver, the facility will include tasty feline-inspired noms, a gift shop filled with cute kitty items to purrchase, and adorable adoptables.
Lapping up the milk of human kindness as customers visit their special kitty quarters will be cats from the BCSPCA, a non-profit which annually provides comfort and care to almost 29,000 animals in need at 37 branches throughout British Columbia. The cats' area is furnished with scratching posts, climbable shelving and a toy box filled to the brim with felines' favorite playthings. Although the cats will enjoy the company of humans, if the kitties crave a little quiet time away from their admirers they can unwind in a back room created solely for their serenity.
Although the arrival of Catfé marks Vancouver's first venture into the world of cat cafes, Canadian cat lovers have already been feasting their eyes on adoptable felines as they dine on yummy treats at Le Cafe des Chats, Le Cafe Chat L'Heureux and Cafe Venosa in Montreal and TOT The Cat Cafe in Toronto.
Note: A maximum of 16 cat enthusiasts can enjoy an hour-long stay in the cat lounge at any one time. Young cat devotees age 10 and under must be accompanied and supervised by an adult. Entry into the cat lounge is $5 with a purchase from the cafe, $8 without purchasing a cafe item. Reservations are required.
Catfé is located at #2035 at International Village, at 88 West Pender Street in Vancouver.
For more information:
Photo Credit: Catfe